Nopak cylinders
Why does Finnco Pneumatics distribute Nopak cylinders?
Galland Henning Nopak (GHN) have been in business since 1887 so they have decades more experience in building and testing cylinders than their competitors.
Finnco Pneumatics can provide Nopak Class 1,2, M cylinders and Class 5A and 5S cylinders.
Class 1,2, M cylinders
Class 1, and 2 Cast Head Cylinders use recessed gasketed tube seals and piston to O-ring seals as standard features. Class M Cast Head Cylinders offer all the mounts and features of Class 1, and 2 with an oversize rod and welded flanges.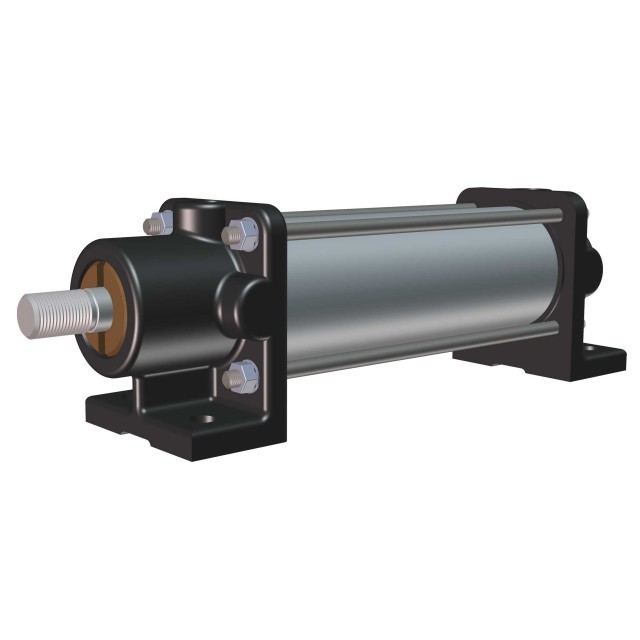 The benefits of Nopak pneumatic air cylinders:
Hard coated aluminum Cylinder Tubes. Honed and chrome plated I.D. steel tubing is furnished for 10" thru 14" diameter cylinders. Class M cylinders have honed steel tubing with welded flanges.
Adjustable Cushion: Provides variable cushioning capacity, preventing noisy, damaging metal-to metal impact of piston against cylinder heads.
Special Molded Composition Wide Lip Self-Sealing Cup Packing: Furnished as standard.
Leakproof Gasket Seal: Between cylinder wall and head on Class 1 cylinders. Recessed gasket on Class 2, and Class M cylinders.
Quick-Opening Ball Check Valve: Assures quick starting under full power. Permits line pressure to act on full piston area instantaneously.
Positive Seal V Ring Stack Packing: Three Nylok inserts lock the threaded packing gland in place and maintain proper packing compressions. Larger diameters employ a piston rod bushing packing gland and bolted retainer ring.
Iron Alloy Cylinder Heads: For durability and long life. Through a large combination of standard and special heads, it is possible to furnish cylinders with mountings for Special Applications.
Hard chrome plated steel piston rods: Threaded in one of three types of rod ends, fine thread series unless otherwise specified. Alternate oversize diameter rods can be accommodated in all standard rod head castings.
---
Options
Wrench Flats
Hi-temp Seals at extra cost
Special Alloy Piston Rods
Stop Tubes
Oversized Rods
Piston Rod Extension
Rod Threading
Cylinder Ports
Double Rod End
Cushions
Class 5A and 5S cylinders.
Class 5A Aluminum Cylinders are light-weight but are as heavy duty as the rest of the Nopak Family. They are equipped to handle pressures of up to 250 PSI Air. Stainless steel and custom materials also available.

Benefits:
Long- life Piston Seals: Heavy lip design Carboxilated Nitrile construction. Seals are pressure Activated and wear-compensating for long life (self-lubricating material).
Low wear rate Piston Wear Band: 90% Virgin PTFE and 10% Polyphenylene Sulfide-filled wear band.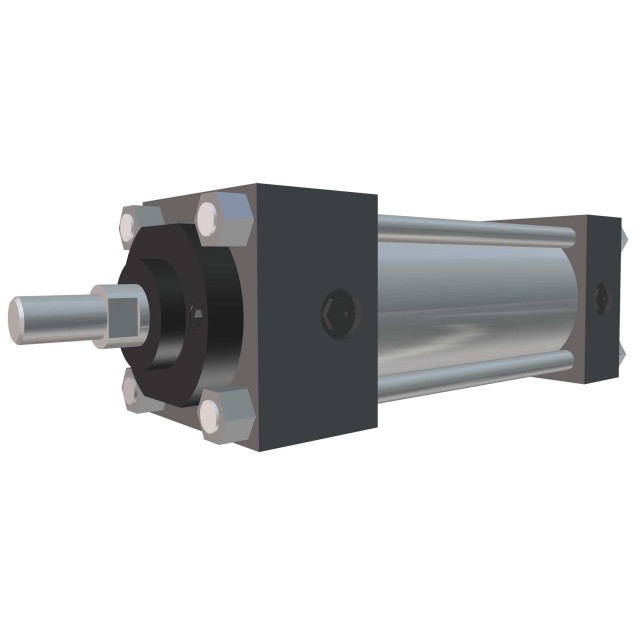 Piston rod: Precision machined from high yield, polished and hard chrome plated steel.
Tie Rods: Pre-stressed high carbon steel tie rod construction eliminates axial loading of cylinder tube and maintains compression on tube and end seals.
Cylinder Tube: Precision machined from 6063 – T6832 high tensile aluminum alloy and hard coat to 60 Rc for wear resistance and extended cycle life.
Permanent Lubrication: Permanently lubricated with Magnalube-G PTFE based grease on all internal components. This is a non-migratory type high performance grease providing outstanding service life. No additional lubrication is required.
Cushions: Floating cushion seal designed for maximum cushion performance, quick return stroke break-away and extended life.
Cushion Adjustment Needle: Adjustable steel needle design has fine thread metering and is positively captured to prevent needle ejection during adjustment.
Rod Bushing: Precision machined from 150,000 PSI rate graphite-filled cast iron and PTFE coated to reduce friction and extend cycle life. Bushing design traps lubrication in effective bearing area.
Rod Wiper: Abrasion resistant urethane provides aggressive wiping action in all environments. External lip design prevents debris from entering cylinder.
Rod Seals: Heavy lip design Carboxilated Nitrile construction. Seals are pressure activated and wear-compensating for long life (self-lubricating material).
Head, Cap and Retainer: Precision machined from high strength 6061-T6 aluminum alloy. Black anodized for corrosion resistance.
---
Options
Shortened or Extended Piston Rod Thread
Extended Piston Rod
Studded Piston Rod
Special Rod Thread
Metric Rod Thread
Oversize Rod
Metallic Rod Scraper
Rod Coupler End
Magnetic Piston
Optional Port Location
Fluorocarbon Seals
Electroless Nickel
Stainless Steel
Stop Tube