EG Series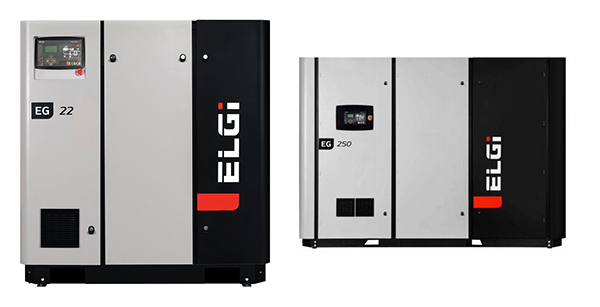 EG Series Rotary Screw Air Compressors
11-75kW, 90-160kW and 200-250kW
Why should I buy an EG Series Lubricated Screw air compressor?
1. Energy savings through:
Highly efficient IE3 motors
Class F motors
Multi compressor management
Heat Recovery
2. Industry-leading warranty of 6-10 years
3. Integration to monitoring:
Connects to the Neuron III Controller free of charge (other compressor companies charge for the controller connection.)

The controller is also password accessible (not RFID).
The controller can send fault alerts to a control room as well as showing a fault signal on the compressor panel and a LED light shining on its diagram to show where the fault is located.
4. Low cost of service:
Ease of maintenance: the machine's parts are easily accessible when servicing it.
The compressor has extended service periods.
5. Lower running temperature which results in:
Longer oil life
Longer bearing life
Less oil carryover
Easier air treatment
6. Machine data available
7. Motor control option
8. 1:1 drive:
Low for pole 450RPM
Longer bearing life
Lower running temperature
9. Motor control options:
On/off load
Modulating
VFD-Variable Frequency Drive-will vary the motor speed according to the air demand, typically offer a savings of between 20% - 30% depending on the demand variation available in the system
10. 15% lower cost of ownership than the leading competitor due to:
Lower service cost
Energy savings
Longer life of the compressor
Key benefits of 11 – 75 Kw EG Series:
Best-in-class energy efficiency
Best-in-class maintenance and operating cost
Lowest oil carryover in the industry
Best-in-class warranty program
Outstanding reliability stemming from slow operating speeds and low operating temperatures
Operating data and safety measures
Optional variable speed drives for energy efficiency
What industries does the 11 – 75 Kw EG Series rotary screw compressor suit?
Auto Garages
Textiles
Engineering
Electronics
Packaging