Prevost couplings and blow guns
Finnco Pneumatics is the sole distributor of PREVOST
Finnco Pneumatics can supply PrevoS1 safety quick couplings and PrevoS1 blowguns to customers in Northland, Auckland, Waikato, Rotorua and Bay of Plenty.
Finnco Compressors also stock PREVOST air piping.
PREVOST is a French company that has 40 years of experience in making quick safety couplings for industries using pneumatic and hydraulic power.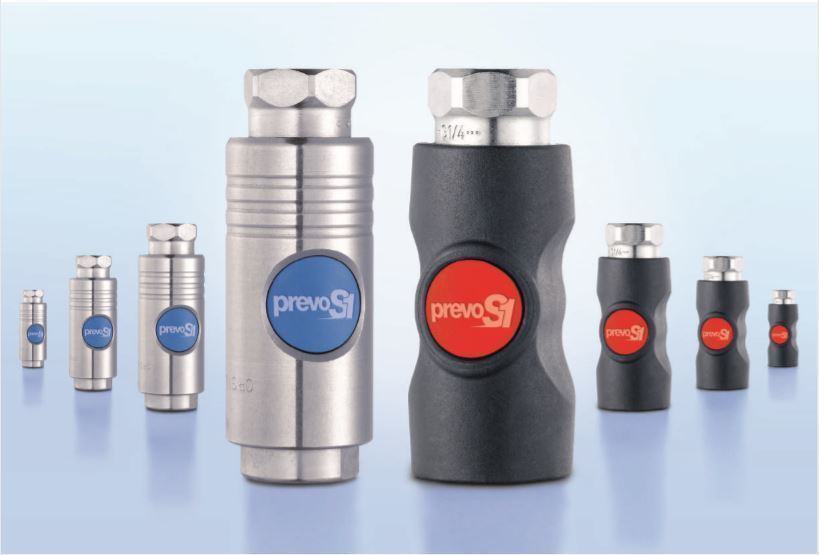 PREVOST PrevoS1 range of couplings
The benefits of this couplings include:
High-quality
Maximum efficiency
Resistant to abrasion, vibration, corrosion, shocks and crushing.
When combined with a PREVOST nozzle, the PrevoS1 sealing mechanism eliminates any risk of leaks both in the coupled or decoupled position.
Excellent handling
Ease of use
The plugs couple directly to the PrevoS1 quick safety coupling
Compatible with all major connection profile standards
These couplings are suitable for automotive paint booths and application lines
Paint applicators need couplings which are light weight, safe, simple to use and provide a consistent flow rate to make best use of the time spent on each job. The PrevoS1 quick safety coupling will not only improve efficiency, it is :
Anti-static

Non-scratch

Compatible with ATEX standard
PrevoS1 couplings can be used by a lot of industries
This includes
The food and beverage industry
The timber industry
The textile industry
These couplings protect against hose whip
PREVOST developed the prevoS1 quick safety coupling range to guarantee a controlled pressure release of air without the risk of "hose whip" or accidental disconnection. Hose whip can lead to hazards for users or nearby products and equipment and can cost a shop thousands of dollars each year in damages.
Operators can now change out their air powered tools in complete safety and in one risk free step.
The PrevoS1 was the first in its class to meet the requirements of the ISO 4414 standard for user safety. The composite body is lightweight and non-scratch to protect delicate work surfaces.
Couplings are colour coded to make it easier to quickly change
Quick service shops use compressed air for many different purposes, especially to power air tools. With so many tools at hand, it can be difficult to quickly identify a proper hose connection. To help technicians easily transition from one job to the next, PREVOST developed an easy to remember colour code system for our entire line of quick connect PrevoS1 safety couplings.
Download the coupling brochure here.
PREVOST Prevo Blow Guns
See the dramatic difference a simple tool upgrade can make in your shop with this air compressor blow gun. The ergonomic pistol grip shape fits comfortably in the palm of your hand, nozzles come in multiple configurations and the embedded plug provides a leak free connection saving both time and money. Download the blowgun brochure here.